To celebrate their 10-year anniversary May Lindstrom was running a gift with purchase promotion in November. They were offering The Jasmine Garden mist (full size) and a travel size of a new product not available for purchase yet – the Happy Galaxy body oil. I purchased Blue Cocoon which I will be reviewing soon and received both. This post is about the new body oil.

I was excited to try a new product from May Lindstrom. May intentionally does not include very many products in her line and emphasizes multi-function. Some of her products can be combined together and multi-task. While I appreciate the simplicity (yay to fewer jars on the counter!), I was really curious to see what kind of product she is considering to introduce next. A few years back she used to have a body oil – the Good Stuff – in the line, which was later discontinued, so it makes sense to re-introduce this type of product.

My Happy Galaxy oil came in a 20 ml travel size dark glass bottle and a carton packaging with all product information as if it were a full sized May Lindstrom product.
As you can see from the ingredients list the carrier is plum seed oil and one of the key ingredients is blue tansy. This product is definitely a cousin to Blue Cocoon balm from the line which also features blue tansy. This ingredient is what gives both products their colour and the distinct scent. Blue tansy essential oil has excellent anti inflammatory properties and can be used effectively to calm redness and irritation (when sufficiently diluted in carrier oil).
The body oil feels light but nourishing and absorbs quickly. I used the product on my arms and it vanished into my skin leaving it smooth without being greasy. But for me the challenge was to get past the smell. It stayed with me for several hours which would have been great had I liked it.
Unfortunately I did not and given how distinct the smell of this product is, I definitely would recommend sampling before investing into a full size bottle when it becomes available. If you like Blue Cocoon there's a good chance you will like the Happy Galaxy oil and its scent as well. I am ok with how Blue Coocon smells (but it's not my favourite) and I felt this oil has an even stronger scent that lingered for a longer period of time, which I did not enjoy. Blue tansy is listed as the third ingredient for this product and only the sixth in Blue Cocoon so the higher concentration of the ingredient is likely the reason for stronger smell.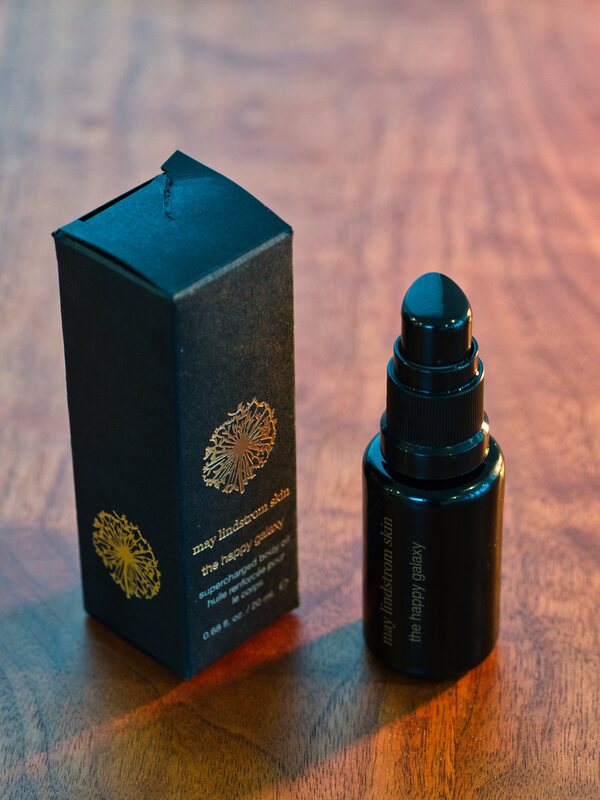 Bottom line is, this is a good body oil if you enjoy – a rather intense – scent of blue tansy. I can see it working great for sensitive skin, diminishing redness and irritation.