Over the past several years I have tried many different face oils and serums, including Mun Aknari serum, Pai Rosehip oil, Laurel Skincare Balance, Antioxidant and Anti-Inflammatory serums, Odacite Jojoba + Lavender and Black Cumin + Cajeput serums, Living Libations Seabuckthorn and Rose Best Skin Ever serums, Living Librations Cell serum, May Lindstrom Youth Dew, Stark Skincare Neroli Midnight and Cypress Purity+Defense oils, as well as Kahina's own Prickly Pear Seed Oil.
The primary concerns for my skin are congested, enlarged pores and oil regulation. While curiosity prompted me try new skincare products, inevitably I always return to Kahina Argan Oil because it produces, by far, the best results for my skin. Skincare is something deeply individual and there is no silver bullet product and no shortcuts on the way to finding your ideal routine (only detours). That is to say, what works for me may not work for you. However, I hope this review gives you some useful information and encourages you to try something new, to ultimately help find what works best for you.
First things first and let's talk about the ingredients. This product is literally made of a single ingredient, argan (Argania spinosa) kernel oil. I appreciate the simplicity of this, it makes it easy to understand what I am putting on my skin and where it came from (in this case, Southwestern Morocco). Knowing where the product comes from and that whoever worked to create it was treated fairly, in itself is a luxury in our times.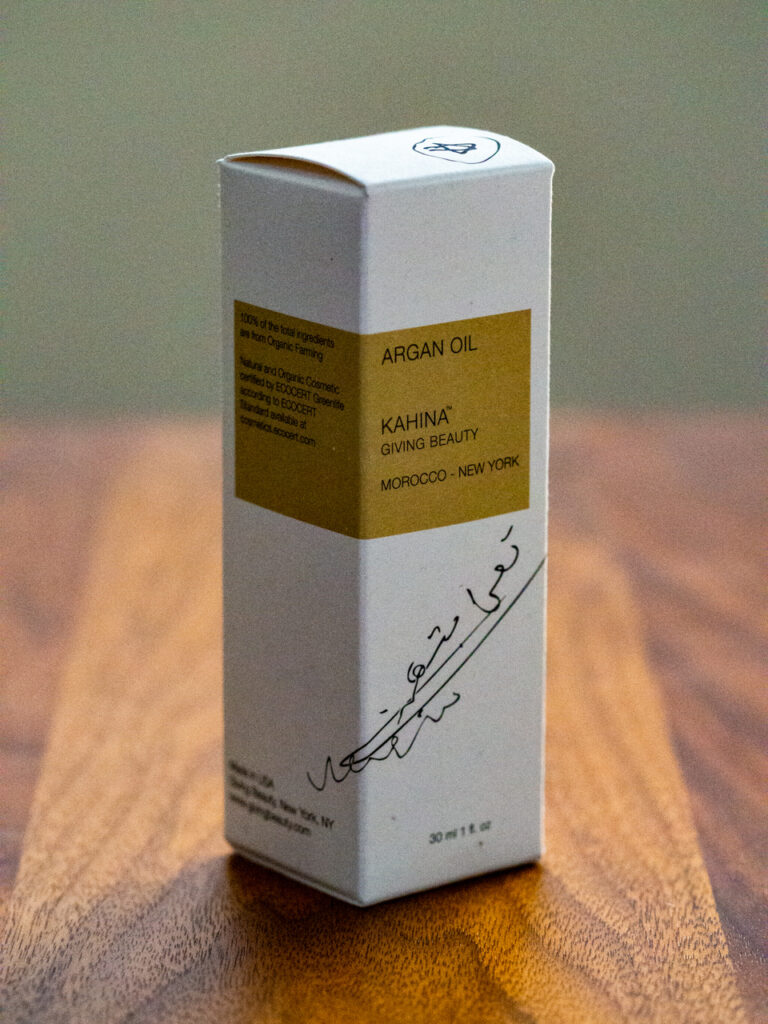 The chemical composition of argan oil is high in fatty acids and tocopherols (vitamin E), which is why it has great moisturizing and softening properties. It may seem counterintuitive to apply a face oil on oily skin, but this product has been wonderful at balancing my skin's own oil production, reducing the overall oiliness of it, while creating a feeling of deeply moisturized and soft skin.
Kahina was the first ever face oil I have tried and my first "green beauty" product. Prior to discovering it, my skin often felt both dry and oily at the same time. I know this sounds as an oxymoron, but this is the best way I can describe it. The dryness manifested when applying foundation with tiny flakes of dead skin peeling here and there, while the surface all over remained oily at the same time. The same area of my skin would feel oily on the surface and dry on a deeper level. Finding an appropriate gentle exfoliation product and daily use of Kahina Argan Oil was the most powerful transformation my skin ever experienced.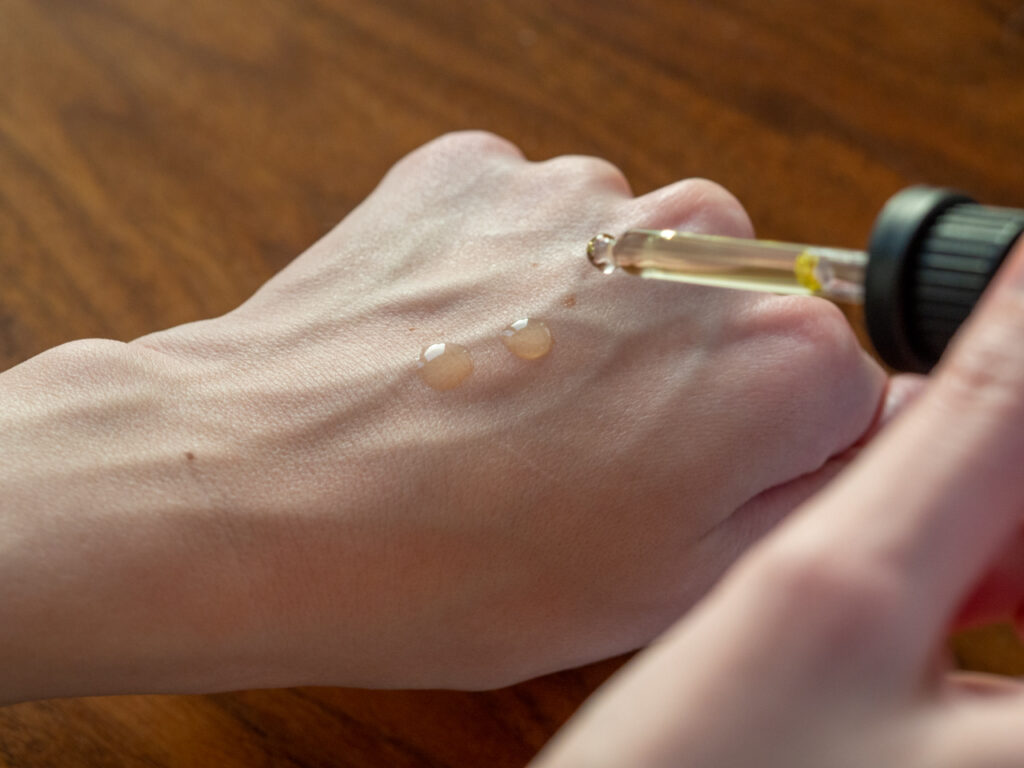 Kahina Argan Oil does not create more congestion in my skin and over time it helps diminish it. The argan oil promotes healing of breakouts and visibly reduces redness and inflammation in a matter of hours for me. If I have a scrape, an insect bite or a dry patch on my body, I apply some argan oil and it helps heal it.
​I apply a small amount (literally two, maximum three drops for the full face and neck) nightly. I always apply the oil on a slightly wet skin for deeper penetration and it soaks right into my skin. Usually when I come out of the shower I very gently press a towel into my face to remove excess water or wipe some of the water drops off my face with my hands leaving the skin still slightly wet. I apply the oil right after, while the skin is still warm with droplets of water on it and rub any excess oil I have on my hands into my nails. Over time the oil has made my nails very strong and elastic.
My skin doesn't look shiny or greasy after the oil application. If it ever does, I know I have either applied too much or the oil I am using is too rich for my skin and not absorbing well. If you're applying oil to dry skin, you can use a face mist to improve the absorption, because in my experience oil is always better absorbed by wet skin and penetrates deeper into skin layers. A mist can be a nice touch especially if you've found one with a scent that you love, but water works just as well.
Kahina Argan Oil also makes a great base for foundation on the days when I choose to wear some. I use Kjaer Weis foundation and apply it with my fingers quickly before the oil is fully absorbed, melting the foundation for a smooth, natural finish. If I have any redness or damage (e.g. from misguided/overzealous mechanical exfoliation), Kahina heals it like nothing else.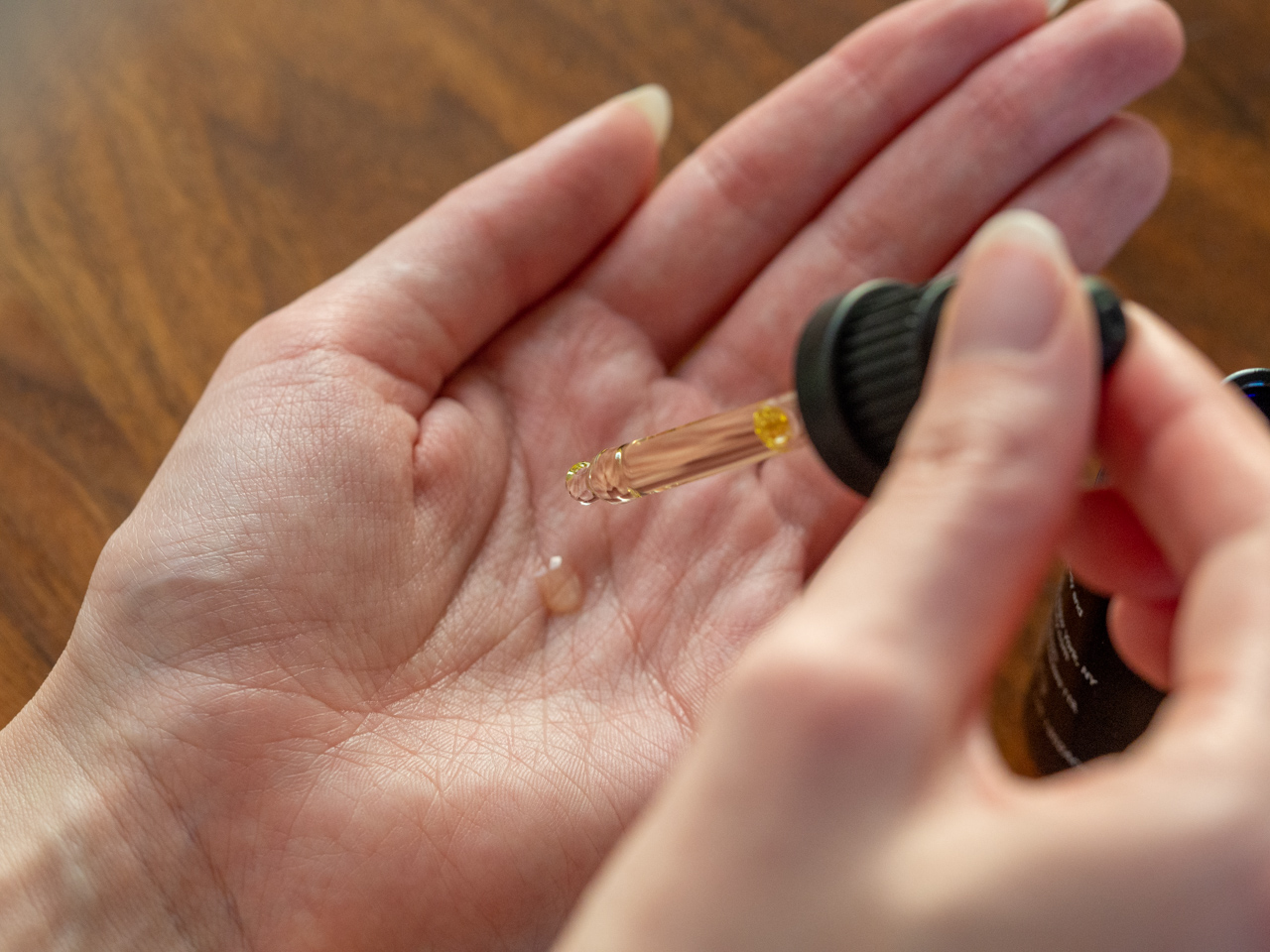 The product has a subtle nutty smell that I hardly notice at this point and light yellow colour. The brand talks about responsible, high quality ingredient sourcing on their web-site and their effort to give back to the oil producers. In addition to ensuring fair wages for producers, Kahina web-site states that the company donates 1% of their revenue to the organizations that support communities in Morocco from which the oil is sourced.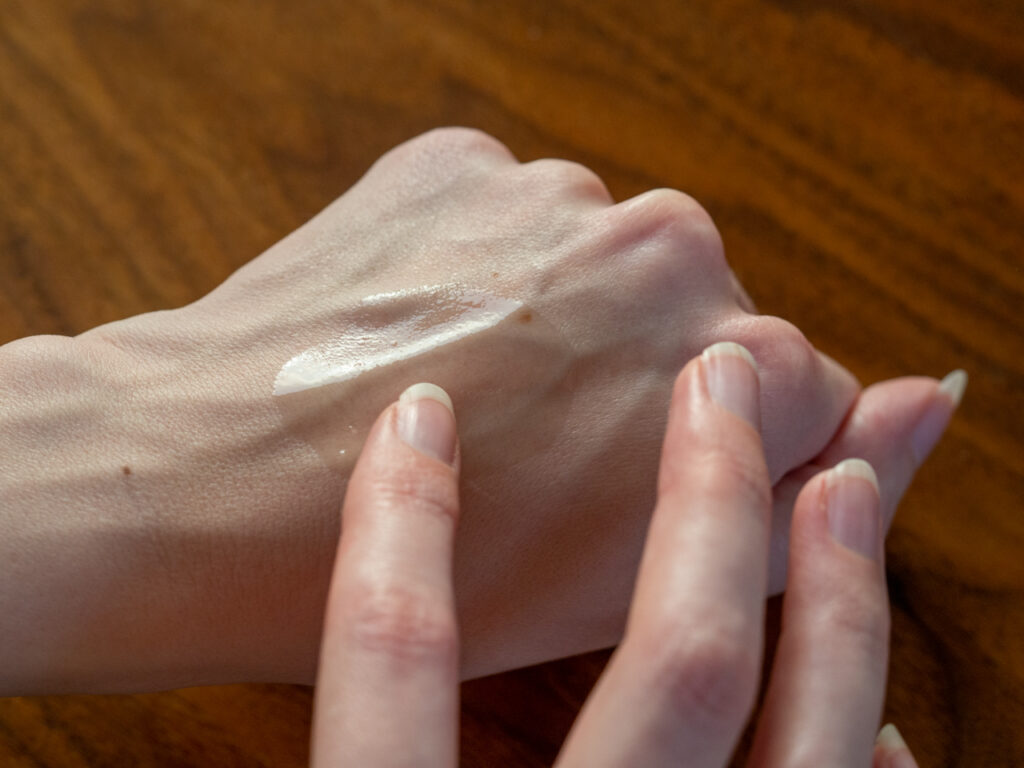 Kahina Argan Oil is cold-pressed from the nuts that have fallen from the tree but still have the exterior fruit pulp intact. Waiting for the fruit to fall rather than harvesting directly from the tree is a mechanism to ensure the trees are not overgrazed. And using the whole fruits only eliminates nuts that have been swallowed and spat out by goats who love munching on the argan tree fruit. Yes, some of the cosmetic argan oil on the market is sourced from nuts that have been in animal digestive tract and thus need to be deodorized with chemicals. Farmers may use goats as a strategy to harvest argan fruit quickly because goats can gather nuts from many trees and crack the outer shell open.
In contrast, argan oil preparation from the whole fruit involves a manual and laborious step of cracking the nut to retrieve the kernel. The work is tedious, but it creates income for Berber women in an environment where other opportunities are scarce and the company emphasizes that it only sources certified fair trade oil from local women-managed cooperatives. Moroccan academic Zoubida Charrouf in her published work explains how argan oil production has aided emancipation in rural regions of Essaouira and Sous Massa Draa. Ms. Charrouf also gave a TED talk on this topic back in 2013 (the talk is in French).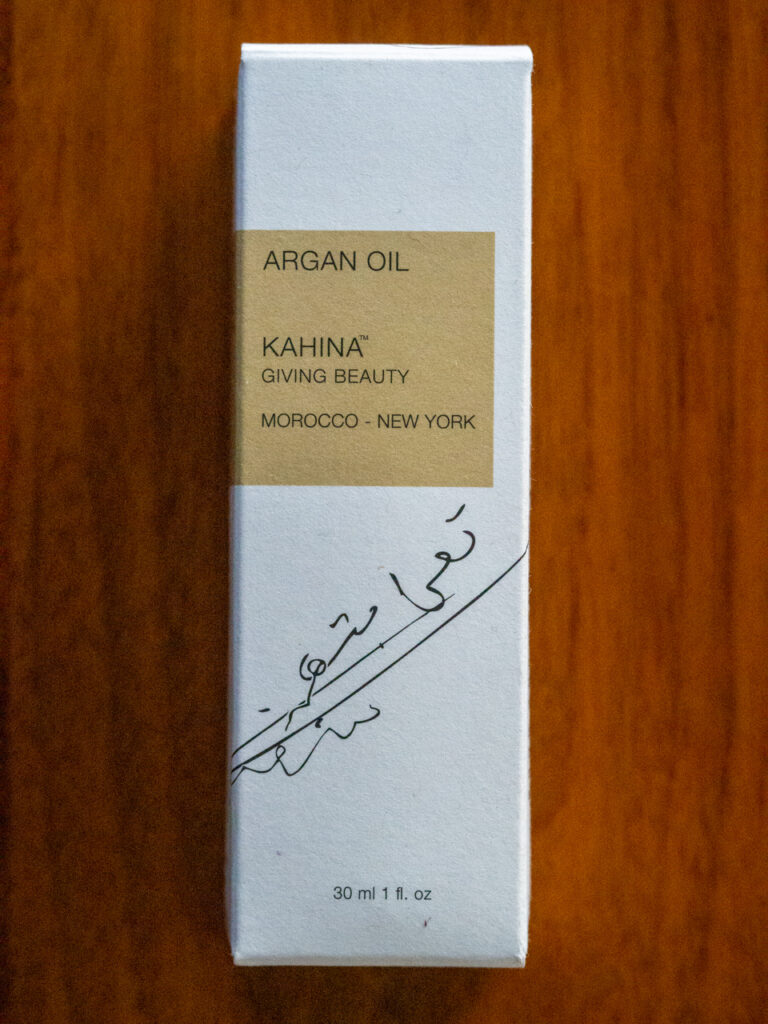 The combination of the quality of the oil and the fair trade practices is the reason why I stayed with Kahina brand, despite other argan oils being available on the market at much lower prices. Kahina Argan Oil retails for 36 USD of a 30 ml bottle before tax. They also have 10 and 100 ml bottle sizes available. I use 30 ml size because I found it to be most convenient when travelling. The oil also dubs as a great gentle makeup remover for me when I travel.
I've read a lot of good things about Prickly Pear Seed Oil and this year finally took the splurge to try some from Kahina. From the very first application I could tell it was richer than the argan oil, it absorbed like a dream and left my skin feeling even softer. However, over time it did not do as well as the argan oil in regulating my congestion and while I wanted to love it, I had to admit it was not as effective at keeping my pores from getting clogged. I think it makes a wonderful, luxurious eye area serum, but not a daily face oil for me for sure. I wish I could use the cushier oils like this one so much, but alas!
I've opened this review with the list of other face oils or serums I have tried. The principal issue with all of them was congestion. Two products which deserve an honourable mention, in my opinion, and which I would like to cover in more detail in the future are Laurel Skincare's Antioxidant serum and Stark Skincare's Neroli Midnight oil. While they could not displace the argan oil as my daily and the only face moisturizer, both are sensory treats and incredible, velvety moisturizers (unfortunately, they are too rich for me for daily use, but make perfect occasional treats).
Without a question, Kahina Argan Oil is the most important and foundational skincare product in my routine. Lots of trial and error helped me find a number of other clean skincare products that I use and love, e.g. cleansers, exfoliations, masks and balms. In my next post I would like to share a detailed review of the exfoliating products I use.